'Earth' colours in home living room design trends.
Crossing the threshold of the TOP SHOPPING gallery - the largest furniture centre in the region and one of the largest in Poland - is a bit like entering a huge catalogue with the latest design and interior furnishing trends.
Crossing the threshold of TOP SHOPPING gallery – the largest furniture centre in the region and one of the largest in Poland – is a bit like entering a huge catalogue of the latest design and interior furnishing trends. Step by step, we get acquainted with the offer of nearly 30 showrooms, up close, unhurriedly, looking at materials, their colours and textures, finishes, arrangements. It is a very inspiring walk! In addition, the reputation, the class, the well-established market position of the furniture manufacturers who have their showrooms here gives us the assurance that we are dealing with the latest trends, without leafing through dozens of design pages and reading the opinions of interior designers. Top Shopping is up to date!
So what will we see on offer for 2023 when it comes to the home's relaxation area, i.e. the living room furniture? First and foremost, it is to be comfy, comfortable, soft, smooth, cosy and friendly. The living room has to invite you to spread out in it, to relax and feel at ease. As last year, a lot of inspiration from nature can be seen, both in the materials (wood) and the colour scheme. We are still in the sphere of grey and beige influences, but we are beginning to migrate towards 'earthy' colours, more decisive, but in muted tones. This means, for example, brick reds, smoky and dark beiges, muted greens and even browns and sandy yellows, which are making a comeback. A sofa or sofa bed in such tones forms the colour centre of the living room and determines the choice of accessories. But their colours do not overwhelm; rather, they form the distinctive focal point of the living room, which is no longer invisible like its beige and grey predecessors.
The honey-coloured Santorini Pure by Hukla corner sofa by JMB DESIGN, or the Kler Maestro sofa available in a faded bottle green shade with wooden elements, are examples of the perfect sense of new trends.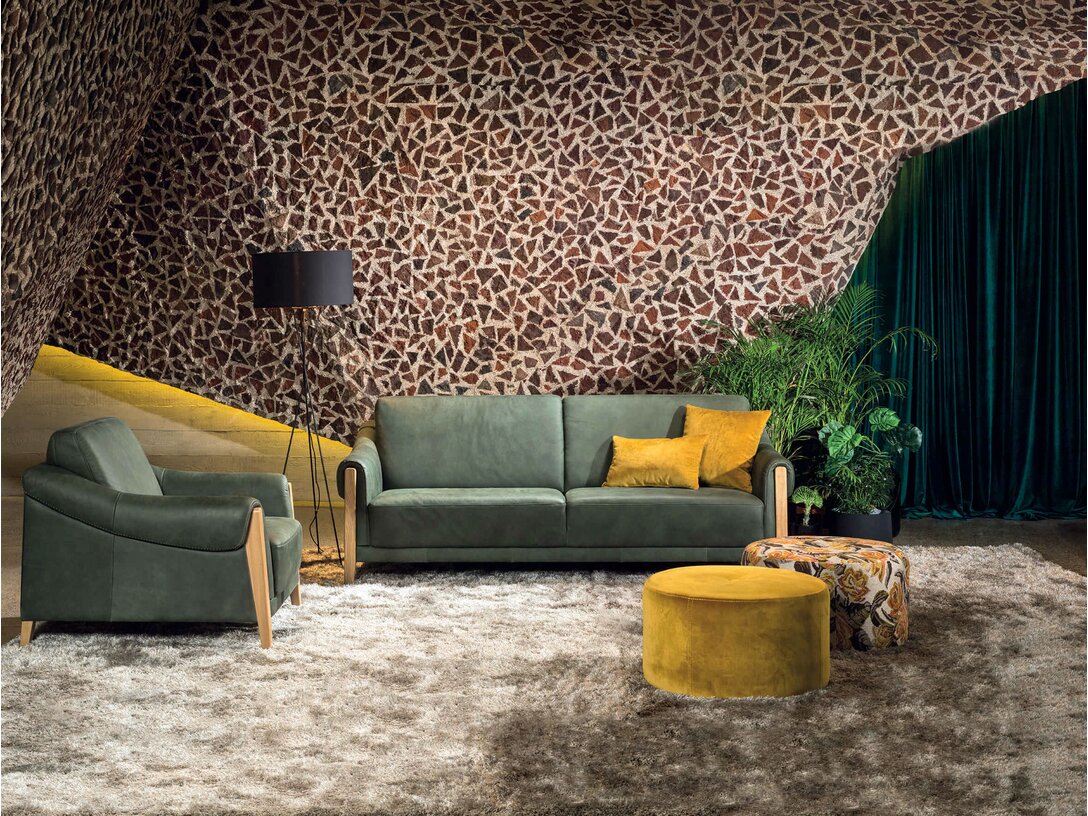 A more decisive shade of such green is used in the case of the Aruba Bis sofa from Black Red White – without wooden elements, but with very fashionable curves.
Also worth noting is the Romano collection from ART TOP Piękne Meble, which includes a beautiful mustard-coloured sofa.
What delights and is at the same time a daring following of the latest trends is the Milan modular system from Gala Collezione – in delightful shades of brick, in a very modern form – yet inviting to relax, spacious, pleasant and comfortable.
Top-notch curves and fashionable convexity can be seen in the Wejnert Amsterdam collection – a form that invites you to relax, a true relaxation centre of any living room!
Leisure is also about armchairs – they can provide a distinctive accent, add style with an interesting form, or a strong color accent. A fantastic collection of armchairs can be found at Bydgoskie Meble.
The living room is where all family members spend the most time in total. Therefore, we should pay particular attention to the selection of furniture for this common area where family life takes place. Convenience and functionality have long been at odds with modernity and keeping up with the latest trends. It all manages to come together wonderfully. Stop by Top Shopping and see how you can upgrade the living room in your home.